My Team
As a representative for Northwestern Mutual, Josh is committed to helping his clients achieve their financial goals. He doesn't do it alone. Here are the people committed to your customer service.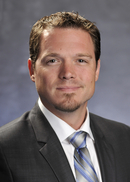 John R Hess
Financial Representative Assistant
Office 952-224-7965

John Hess joined the Joshua Storms team in 2015 after 2 years as a Northwestern Mutual Representative. Like Josh, John's mission is to help families and business owners secure their financial future. John also enjoys working with special needs families to help ensure the best possible future for their loved ones.

John is married to Courtney Hess. Courtney is a professional family photographer that specializes in taking candid family photos. John & Courtney have 3 young children, Savannah, Greyson, and Sawyer. John and his family enjoy spending quality family time on the lake in the summer, as well as finding new adventures away from home year round.

Ana Werner
Operations Manager
Office 952-224-3802

Ana Werner joined the Joshua Storms team in the summer of 2018. Ana works in various roles on the team from exceptional client services to marketing and overall team management.

Ana graduated from Minnesota State University, Mankato in 2018 with a degree in Finance. She has an English Bulldog, named Jelly and enjoys spending time with friends and family, going to the gym, cooking, and being outdoors.